Top 5 Reasons Your Child is in Danger- Education in America
The Question is…. What you can do about it?
1. Your Child Has a Target on their back – By whom in Education you may ask……
Progressive Globalists – Big Brother – Obama, Arne Duncan, Linda Darling Hammond
Education Crony Capitalists – Big Government – Thomas Ratliff (Microsoft) , Jeb Bush (Charter Schools), Mike 

Huckabee (Online Homeschool curriculum), Bill Bennett (K12 Online curriculum) 



2. They are working hard capturing data. 
As posted by Janice VanCleave from ParentalRight.org…

A "National Database" of school children has launched. At the SXSWEdu Technology Conference in Austin, Tx featured a new project that has many educational technology companies very excited – and that has many parents angry and deeply concerned. The project is called inBloom – a massive national database of personal information on public school students – and it is already up and running. Largely funded by the pro-internationalist Bill & Melinda Gates Foundation, the $100 million project contains information on millions of children to date. 

Parents in New York are furious that their child's information is being shared with private companies "to create a national database for businesses that contract with public schools," according to the New York Daily News.

Data being stored includes identifying information such as name, address, and social security number, along with school grades, attendance, and even information on hobbies, interests, and attitudes toward school.

School boards and education materials producers are very excited. Product Manager Jeffrey Olen of CompassLearning, an education software company, told Reuters, "This is going to be a huge win for us." And Brandon Williams, a director at the Illinois State Board of Education, told them, "We look at personalized learning as the next big leap forward in education."

But parents are equally "excited" – and deeply concerned – about all of that data being collected about their child and stored in a massive database with nationwide access by anyone with whom the school system would like to share it. And that's saying nothing of hackers who might get at it illegally.

The Electronic Privacy Law Center in Washington is suing the U.S. Department of Education over this issue. Their administrative counsel, Khaliah Barnes, told the Daily News, "It's a lot of smoke and mirrors. What happens if a company using the data is compromised? What happens if the company goes out of business? We don't know the answers."

Donna Lieberman of the New York Civil Liberties Union is also concerned. "Turning massive amounts of personal data about public school students to a private corporation without any public input is profoundly disturbing and irresponsible," she told the Daily News. Her organization has blasted the state for not giving parents any notice of the plan or the opportunity to opt their child out of the program.

But the committee that oversees implementation of the United Nations' Convention on the Rights of the Child (CRC) would be proud. They routinely include the following in their Concluding Observations to a nation's periodic report on CRC implementation: "The Committee reiterates its recommendation for the State party to set up a national and comprehensive data collection system and to analyse the data collected as a basis for consistently assessing progress achieved in the realization of child rights and to help design policies and programmes to strengthen the implementation of the Convention."i

With inBloom building a comprehensive national database to track students from Kindergarten through high school, much of that work will already be done in the United States.

Those who believe there is no need for a Parental Rights Amendment tend to fall into one of two groups. Either they believe the government would never really threaten the right of fit parents to direct the upbringing of their child, or they believe the government would make better decisions than most parents. Secretly shipping personal and educational data on millions of school students to a private corporation seems like an excellent way to prove both of these groups wrong. Far more important, it leaves the identities, reputations, privacy, and future of our children at stake.
3. Texas Passed HB2103 P2o Legislation – Setting up 3 Education Research Centers with Access to Private Information of Children and Teachers. P-20 stands fro PreSchool to Masters Degree 
Concerns ABOUT TX HB 2103 from Donna Garner
HB 2103 requires that data from the Texas Higher Education Board (college data), Texas Workforce Commission (workforce data), and the Texas Education Agency (student, teacher, family data) – going back 20 years – can be shared with third parties in and outside Texas.

HB 2103 is called a "P-20" initiative which tracks personal data from K-16 and then continues to collect personal data right straight into the workforce years.

HB 2103 was authored by Rep. Mike Villarreal (D-San Antonio) and Rep. Dan Branch (R – Dallas) and was sponsored by Sen. Kel Seliger (R – Amarillo).

On 5.15.13, HB 2103 passed the Senate on voice vote – 31 to 0:  http://www.journals.senate.state.tx.us/sjrnl/83r/pdf/83RSJ05-15-F1.PDF#page=6

On 4.24.13, RV #316 (Third Reading), HB 2103 passed in the House – 130 Yeas, 1 Nays, 1 Present Not Voting.

Rep. David Simpson appears to be the only Legislator to vote against HB 2103: http://www.journals.house.state.tx.us/hjrnl/83r/pdf/83RDAY58FINAL.PDF#page=21
PEIMS – DATA COLLECTION SYSTEM IN TEXAS
PEIMS is not new; the Texas Education Agency has required school districts to submit their data probably since the mid-80's when demographic and testing data became popular.  However, the data was kept at the TEA; and from what I have been told by a previous TEA Commissioner, that data was not transmitted to third parties, certainly not outside our state.
Now the PEIMS data by law under HB 2103 is subject to scrutiny from outside sources. 
Watch this short video of David Coleman, president of the College Board and creator of the Common Core State Standards talking about who they  have hired to build field mobilization and data collection. They are wanting to train American children on advocacy and policy. THEIR Advocacy and Policy.
As you heard above David Colman president of the College Board stated in the video above they have the largest amount of data and will be using it. HOW? 
Ground Mobilization and Data Collection.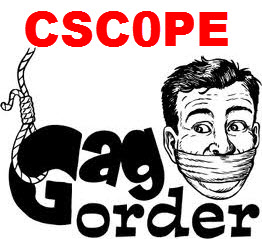 4. Another Gag Order on Texas Teachers – 
As reported on the Red Hot Conservative… Texas Teachers 2013/2014 CSCOPE.. GAG ORDER!
CONTROL, CONTROL, CONTROL…. Below is what Texas Teachers have to agree to in order to enter the CSCOPE/TEKS Resource System. It is surprising that after all that has transpired over the last year and the controversy behind CSCOPE, the owners, the education service centers still want to control parents and teachers when it comes to viewing or speaking out against CSCOPE.

TEXAS CURRICULUM MANAGEMENT PROGRAM COOPERATIVE

TEKS Resource System Terms of Service

Welcome to the TEKS Resource System website. Please review the following Terms of Service carefully. These Terms of Service are a legally binding contract between you, as the user of this website, and the Texas Curriculum Management Program Cooperative ("Cooperative" or "our" or "we" or "us"). It applies to your use of the Site and all information, media, content, printed materials and electronic documentation accessible from teksresourcesystem.net or any of its sub-domains (collectively, the "Site"). An employee of a Texas independent school district, charter school, or private school that has licensed use of the TEKS Resource System (a "LEA"), parents of LEA students who access the Site from a LEA computer on a LEA campus in accordance with the policies and procedures of the LEA, and employees and representatives of regional education service centers or the Cooperative, and any individual who has received TCMPC's express written consent is an "Authorized User."

The "Services" available to Authorized Users through the Site are the curriculum system, including assessments and assessment items, answer keys, curriculum components and resources (collectively, the "Components"), and professional development courses on the Site. The Services are designed to facilitate the ability of Authorized Users to provide instruction to children enrolled in LEAs in the State of Texas. We will continue to further develop Services and operate the Site, in accordance with applicable state and federal laws and regulations, with a view to enhancing the ability of parents and of teachers and of other Authorized Users to provide high quality educational instruction.

 

1. Acceptance of Terms of Service.

Please review these Terms of Service carefully. By accessing or using the Site, you are agreeing to comply with and be bound by them. If you do not agree to these terms, do not use this Site.

 

2. Limited License; Permitted Uses; Restrictions on Use.

You are granted a non-exclusive, non-transferable, revocable license to:

permit parents to review the Components and Website in accordance with the policies and procedures of the LEA that is your employer and with Texas Education Code § 26.006;

permit parents to view the Site and have access to all Components when present at a school within the child's LEA in accordance with the policies and procedures of the LEA;

access and use the Site, the Services, and all Components strictly in accordance with this Agreement and any other agreement entered into between you, the Cooperative and/or any entity by which you are employed or with which you contract, and in accordance with the policies and procedures of the LEA;

use the Site solely for purposes of furthering the educational goals of the public schools that are licensees, either in their own right or through their LEA or the Cooperative, in accordance with the terms of this Agreement and the policies and procedures of the LEA;

print out and modify Components solely for the purposes set forth in the preceding bullet, in accordance with the terms of this Agreement, and the policies and procedures of the LEA;

modify the Components and create derivative works from the Components in accordance with Section 2 of the terms of this Agreement and the policies and procedures of the LEA. All modifications and derivative works of the Components belong to the Cooperative;

share the Components you have modified with other Authorized Users in accordance with this Agreement and the policies and procedures of the LEA.

You may not make any other use of the Site or Components. Other than this license, you do not have any license, title, or ownership of/to the TEKS Resource System or any other intellectual property of the Cooperative or any third party. For the rest of the contract please click HERE.
5. It is time to connect the dots with National Security and Education: Do you know who your child is with online? 
We teach our children not to talk to strangers as toddlers then we send them to school and they are desensitized to even know who a stranger (an enemy) is. Tim Brown on the Lisa Benson show said we must…. "Know the Enemy". We must teach our children to "Know the Enemy"!
As reported on 

The Qatar Foundation International, or QFI, in 2011 partnered with the Department of State and the U.S. Department of Education to facilitate matchmaking between classrooms in the U.S. and international schools through something called the "Connect All Schools" project.

QFI, funded by the Qatari government, explains on its website the initiative was founded in response to Obama's call in his June 2009 speech to the Arab world in Cairo, Egypt, to "create a new online network, so a young person in Kansas can communicate instantly with a young person in Cairo."

QFI relates how more than 100 U.S. schools and organizations have already connected on the interactive website.
The stated goal of the initiative is to "connect every school in the U.S. with the world by 2016."…

WND reported last May the Qatar-based foundation awarded "Curriculum Grants" to seven U.S. schools and language organizations to "develop comprehensive and innovative curricula and teaching materials to be used in any Arabic language classroom."

QFI, based in Washington, D.C., is the U.S. branch of the Qatar Foundation, founded in 1995 by Qatar's ruling emir, Sheikh Hamad bin Khalifa Al Thani.

Thani is still the group's vice-chairman, while one of his three wives, Sheikha Moza bint Nasser, chairs the organization's board.

Thani also launched Al Jazeera in 1996 and served as the television network's chairman. Source: Counter-Jihad Report

Qatar is skyping with your children across the U.S.
 This is interesting to note….
 From Connect All Schools blog… Hat Tip Terri Hill for connecting this dot.

"The efforts of the Connect All Schools consortium and like-minded programs, such as Flat Classroom, Edmodo, Twitter chats, Global Read Aloud Day, Skype in the Classroom, Microsoft's Partners in Learning, Global Classroom Scrapbook Project, and the Intel Teach Program, have vastly increased the diversity and number of students gaining global awareness and empathy beyond what would be possible through study abroad alone."

MICROSOFT is a bonafide "like minded" partner!
If you are not going to allow your child, grandchild, niece or nephew to be used like this start by signing a petition to remove paid Microsoft lobbyist Thomas Ratliff from the Texas SBOE (State Board of Education)